New biogas plant in Juuka, Finland, reduces emissions significantly from the processes of the local Puljonki factory
Nestlé Professional's subsidiary Puljonki Oy signed a cooperation agreement last year with Nevel Oy for the processing of by-products and steam production at their local Juuka factory. Puljonki Oy produces bouillons, broths, and sauces for the food service business and restaurants across Europe. The biogas plant built adjacent to the Puljonki factory is now operational, and its commissioning started in the spring of 2023. The project has received investment support from the Finnish Ministry of Employment and the Economy.
Nevel Oy produces green energy using circular economy solutions. The organic waste generated in the Puljonki factory is converted into biogas and then further into steam. The energy produced is then used to make OSCAR®, Puljonki® and CHEF® bouillons and sauces. This project is a model example of a circular economy solution that enables almost full utilization of the waste generated in industry processes. Emissions and transportation costs are reduced when waste from industrial production does not have to be transported for composting or further processing elsewhere. In addition, the by-products generated at the biogas plant can be used as fertilizer for agricultural needs.
Paul den Dunnen, Managing Director Puljonki Oy emphasizes that this co-operation contributes greatly to Nestlé Professional's and its parent company Nestlé's climate commitments.
– Climate change is one of the gravest challenges of our time, and the biggest food company in the world is committed to achieve net zero emissions by 2050. Nestlé aims to halve its emissions by 2030. This significant investment is a perfect example on our journey to achieve these goals, Paul den Dunnen states.
– After the commissioning of the biogas plant, Puljonki products are manufactured with renewable energy. By minimizing waste and investing in renewable energy, we are helping to create a greener future, says Puljonki factory manager Tomi Strand.
Nevel Oy offers advanced industrial infrastructure solutions. The Juuka biogas plant can process up to 19,500 tons of biowaste per year, and the plan is to produce 980,000 m3 of biogas per year, which corresponds to 9,700 MWh of energy production.
– Nevel's circular economy solutions make use of industry side streams cost-effectively. They help our customers speed up their emission reductions and achieve their climate goals, says Thomas Luther, CEO of Nevel.
Additional information
Hanna Viita, +358 40 167 1755, Director of Sustainability and Communications, Nevel Oy
Tomi Strand, +358 40 503 6388, Plant Manager, Puljonki Oy
Nestlé Professional and Puljonki in brief
Nestlé Professional is Europe's largest operator in its field and part of Nestlé. Our extensive selection of 150 products consists of broths, bouillons and sauces used in professional kitchens. At our factory in Juuka, Finland, we also produce the Maggi by Puljonki products for consumers. Puljonki products are made from pure Nordic ingredients. The factory in Juuka employs approximately 55 professionals. Nestlé is the world's largest food company, and we aim for net zero emissions by 2050. We act as a trendsetter by addressing our emissions across our entire value chain.
Nevel Oy in short
Nevel offers advanced infrastructure solutions for industry and real estate that are purpose-built and future-proof. We are committed to climate-positive growth and implement social change by creating local circular economies and promoting the transition to CO2-neutral energy production. Nevel has almost 100 industrial and more than 5,000 real estate customers, to whom it offers decentralized energy and circular economy solutions. Nevel operates more than 130 energy production facilities and manages more than 40 district heating networks. The company's turnover is 115 million euros. Nevel employs 190 experts in Finland, Sweden and Estonia.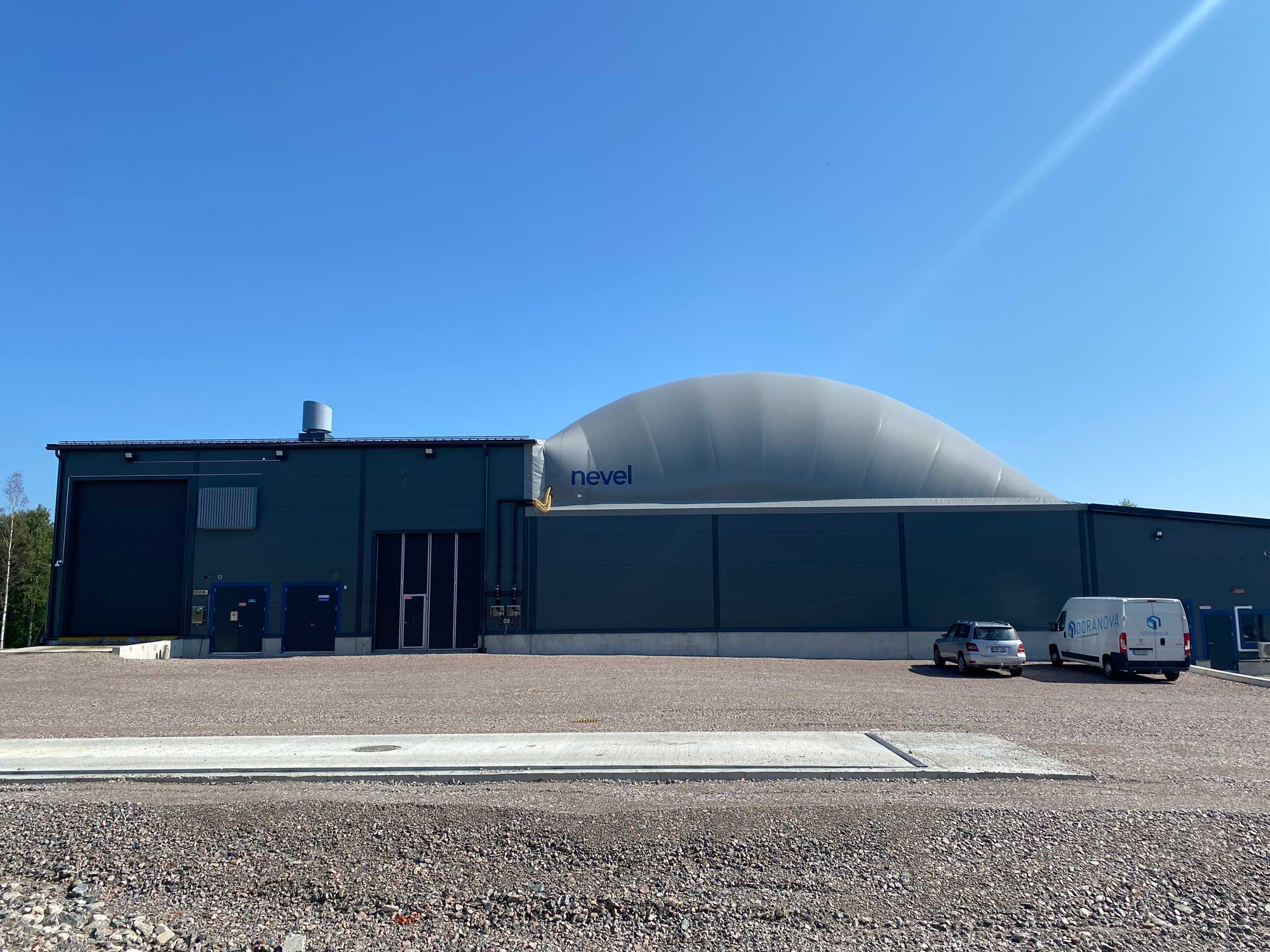 New biogas plant in Juuka, Finland, reduces emissions significantly from the processes of the local Puljonki factory.