Alva-yhtiöt Oy and Nevel Oy have agreed on a transaction in which Alva's heating business in Viitasaari and two separate heating plants in Laukaa (Vihtavuori and Kuhankoski), Finland, will be transferred to Nevel's ownership on September 1. Nevel takes over the energy production, distribution and customer service of district heating networks in Viitasaari and the operations of heating plants in Laukaa. The water supply of the city of Viitasaari will continue to be owned and managed by Alva.
To enable the transaction, Alva Viitasaari Oy has been divided into two separate companies – Alva Viitasaari Vesi Oy, and Viitasaaren Lämpö Oy. The shares of Viitasaaren Lämpö Oy will be transferred in the transaction.
District heating serves hundreds of real estate, household and industrial customers in the regions. The annual energy production is approximately 50 GWh. Nevel is committed to the development of the district heating business in the long term.
– Alva is centralising its district heating business in the city of Jyväskylä and in the area of the main district heating network it owns. The arrangement ensures the smoothest possible transfer of business and secures the continuation of operations and services, says Tuomo Kantola, CEO of Alva-yhtiöt Oy.
– We are really happy about this cooperation. We will invest in Viitasaari and Laukaa district heating business to reduce emissions and achieve carbon neutral energy production by 2030. We ensure the operational efficiency and flexibility of production, says Thomas Luther, CEO, Nevel.
Nevel will purchase operations and maintenance services from Alva Viitasaari Vesi Oy.
The change affects the invoicing details of district heating customers. Customers will receive more information from Nevel by mail. In addition, a customer info event will be arranged in September.
More information
Tuomas Rouhikko
Director, Real estate business, Nevel
tuomas.rouhikko@nevel.com
+358-50 380 4224
Hanna Viita
Director, Sustainability and communication, Nevel
hanna.viita@nevel.com
+358-40 167 1755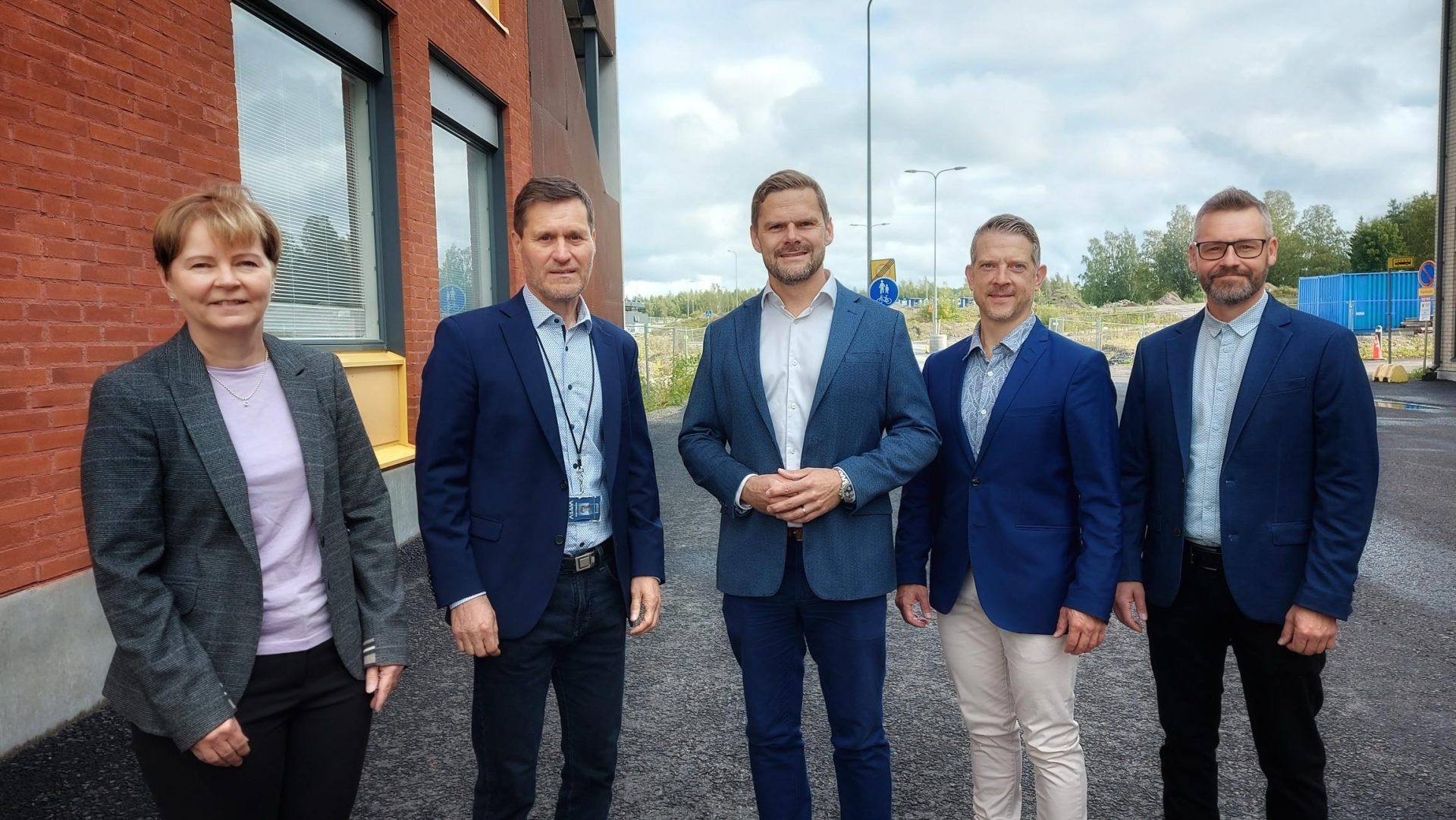 From left: Taina Julkunen, Chief Financial Officer of Alva, Kari Kautto, Network Director, and Thomas Luther, CEO of Nevel, Tuomas Rouhikko, Director of Real Estate Accounts and Mikko Reuna, Account Manager.
Nevel in brief
Nevel is a utility infrastructure company offering advanced industrial and real estate infrastructure solutions that are fit-for-purpose and future-proof. Committed to climate positive growth, we drive societal impact by co-creating local circular economies and driving transformation to carbon-neutral energy production. Nevel serves almost 100 industrial and over 5,000 real estate customers with decentralised energy and circular economy solutions. The company operates more than 130 energy production sites and manages over 40 district heating networks. Nevel has an annual turnover of EUR 115 million, and employs 190 experts in Finland, Sweden and Estonia.