Nevel will be responsible for the plant's water treatment and provide steam produced through renewable energy
Nevel has agreed to supply renewable textile and fashion technology company Infinited Fiber Company with energy and water utilities for their new processing plant at the Veitsiluoto site in Kemi, northern Finland.
Infinited Fiber Company is planning to convert a paper factory previously operated by Stora Enso on the site into a InfinnaTM textile fiber production plant. This will be the company's first commercial-scale plant. The fiber production processes require steam energy and water purification. Among other services, Nevel is set to supply Infinited Fiber Company with energy and water utilities. Energy provided will be renewable, reducing emissions from heat production.
Earlier this June, Nevel announced its cooperation with Stora Enso Veitsiluoto Oy aimed at delivering energy infrastructure services in Veitsiluoto. Nevel acquired Stora Enso's district heating business to ensure the continuation of the service to the residents and properties in the local area. Nevel has also signed an agreement to supply energy to Stora Enso's sawmill in Veitsiluoto. The total value of Nevel's investments in the region is approximately EUR 50 million.
"We are planning the first commercial-scale plant for producing our high-quality regenerated textile fiber Infinna™ from textile waste in Veitsiluoto. Most of the plant's fiber output is expected to be delivered to the world's leading clothing and fashion companies. We are delighted to have the technological expertise of a trusted and responsible operator like Nevel on board for this flagship project", says Petri Alava, CEO and co-founder of Infinited Fiber Company.
"We are delighted that Infinited Fiber Company has chosen us as its energy and water utility partner for this factory project. We are committed to the long-term development of the industrial energy infrastructure in the region, and it is important for us to work together in the long term to support both our customers and wider society, as we all transition towards a climate-positive future. We believe that partnering with Infinited Fiber Company will create new opportunities for the region", says CEO of Nevel, Thomas Luther.
More information
Thomas Luther
CEO, Nevel
+358 (0)40 534 4256
thomas.luther@nevel.com
Hanna Viita
Director of Sustainability and Communications, Nevel
+358 (0)40 1671755
hanna.viita@nevel.com
About Nevel
Nevel is a utility infrastructure company offering advanced industrial and municipal infrastructure solutions that are fit-for-purpose and future-proof. Nevel operates more than 130 energy production sites and manages over 40 district heating networks. The company has an annual turnover of EUR 100 M, and employs 150 experts in Finland, Sweden, and Estonia. Committed to a climate positive future, we drive societal impact by co-creating local circular economies and driving transformation to CO2 emission free energy production.
Infinited Fiber Company
Infinited Fiber Company is a fashion and textile technology company on a mission to bring joy and hope back to closets by making circularity an everyday reality. Our breakthrough innovation turns cellulose-rich materials – like worn-out clothes – into InfinnaTM, a premium textile fiber that looks and feels soft and natural like cotton. InfinnaTM is biodegradable, contains no microplastics, and textiles made with it can be recycled in the same process. We are headquartered in Espoo, Finland. Learn more at: https://infinitedfiber.com and follow us on Twitter, Instagram, LinkedIn, and TikTok.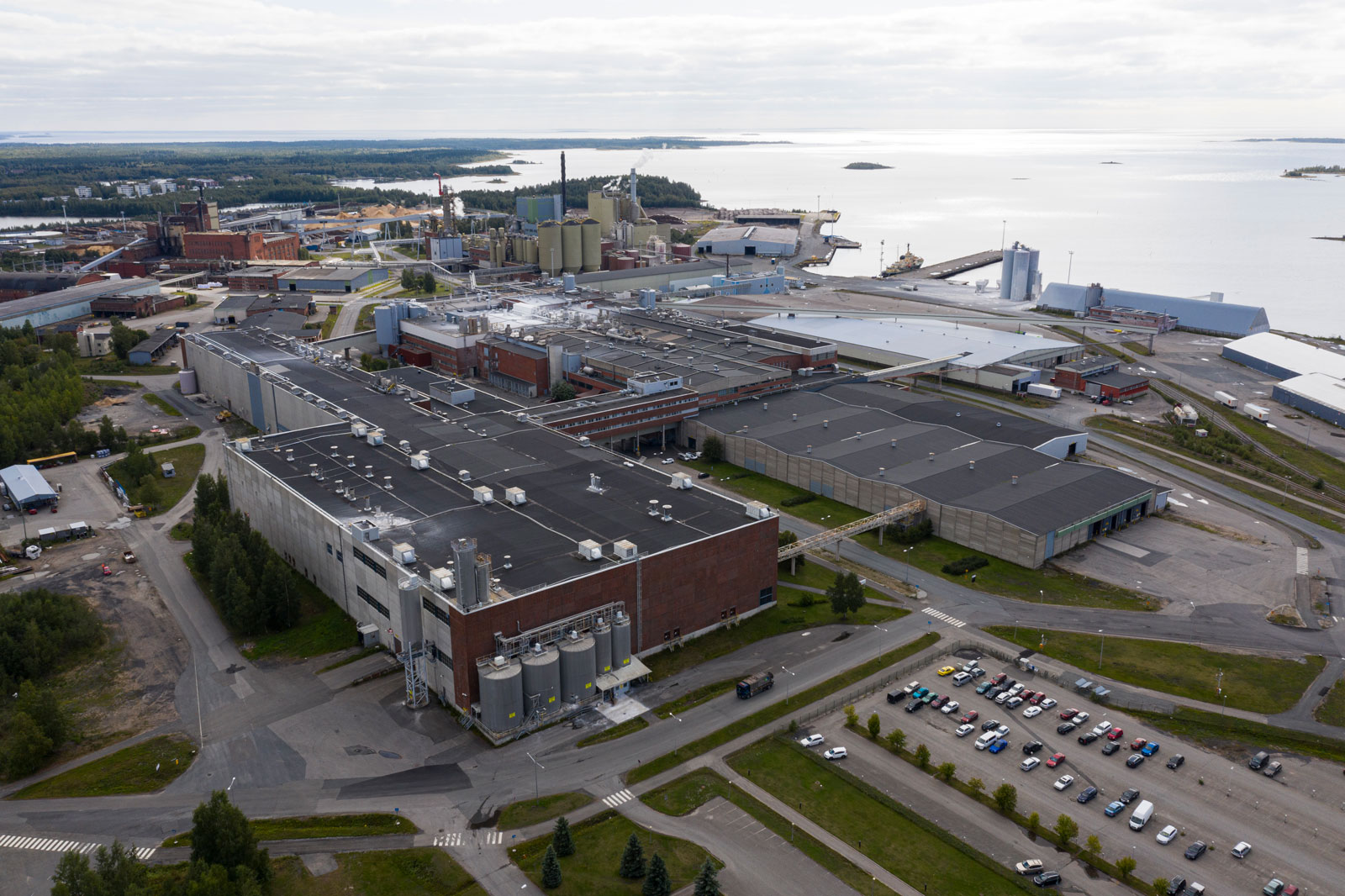 Nevel is set to become the energy and water utilities supplier for Infinited Fiber Company's recycled textile fibre processing plant in Veitsiluoto.
(Photo credit: Stora Enso. Download high-res picture)