Nevel has signed a cooperation agreement for the processing of by-products and steam production with Puljonki Oy, a producer of sauces and sauce bases for professional kitchens. Nevel will build a biogas plant that will convert all organic by-products generated in the factory's processes into biogas. The biogas plant will be built on Puljonki's factory site, located in Northern Carelia, Finland. The project has received funding from the Finnish Ministry of Economic Affairs and Employment.
Nevel is responsible for the construction, operation, and maintenance of the biogas plant under a long-term contract. The plant is scheduled to be put into operation in the first half of 2023. The by-products processed in the plant can also be used as fertilisers in local agriculture.
"Together with our customers, our goal is to create sustainable solutions to accelerate a cost-efficient transition to the circular economy and carbon neutrality. The cooperative project with Puljonki is an excellent example of a circular solution that allows near-complete utilisation of industrial by-products," says Andrej Solovian, Sales Manager at Nevel.
The cooperation will contribute to the realisation of the emission reduction targets of Puljonki and its parent company Nestlé. Transport emissions and costs are also reduced, as industrial production waste no longer needs to be transported far for composting or processing.
"Our aim is to achieve annual CO2 emission reductions of up to 1,900 tonnes. The utilisation of the biogas plant's by-products as a fertilisers also supports the company's efforts to promote regenerative agriculture," explains Tomi Strand, Factory Manager at Puljonki.
For Puljonki, cooperation with an industry expert in this project was important.
"In addition to the environmental and climate benefits, Nevel's transparent operating model brings savings and predictability, which helps us manage our own costs. When a competent partner plans, operates, and maintains a plant on our behalf, we can fully focus on our own core business," Strand adds.
Enquiries
Teemu Klingberg, +358 50 317 1448, Director, Industrial Infrastructure, Nevel
Hanna Viita, +358 40 167 1755, Director, Sustainability and Communications, Nevel
Tomi Strand, +358 40 503 6388, Factory Manager, Puljonki Oy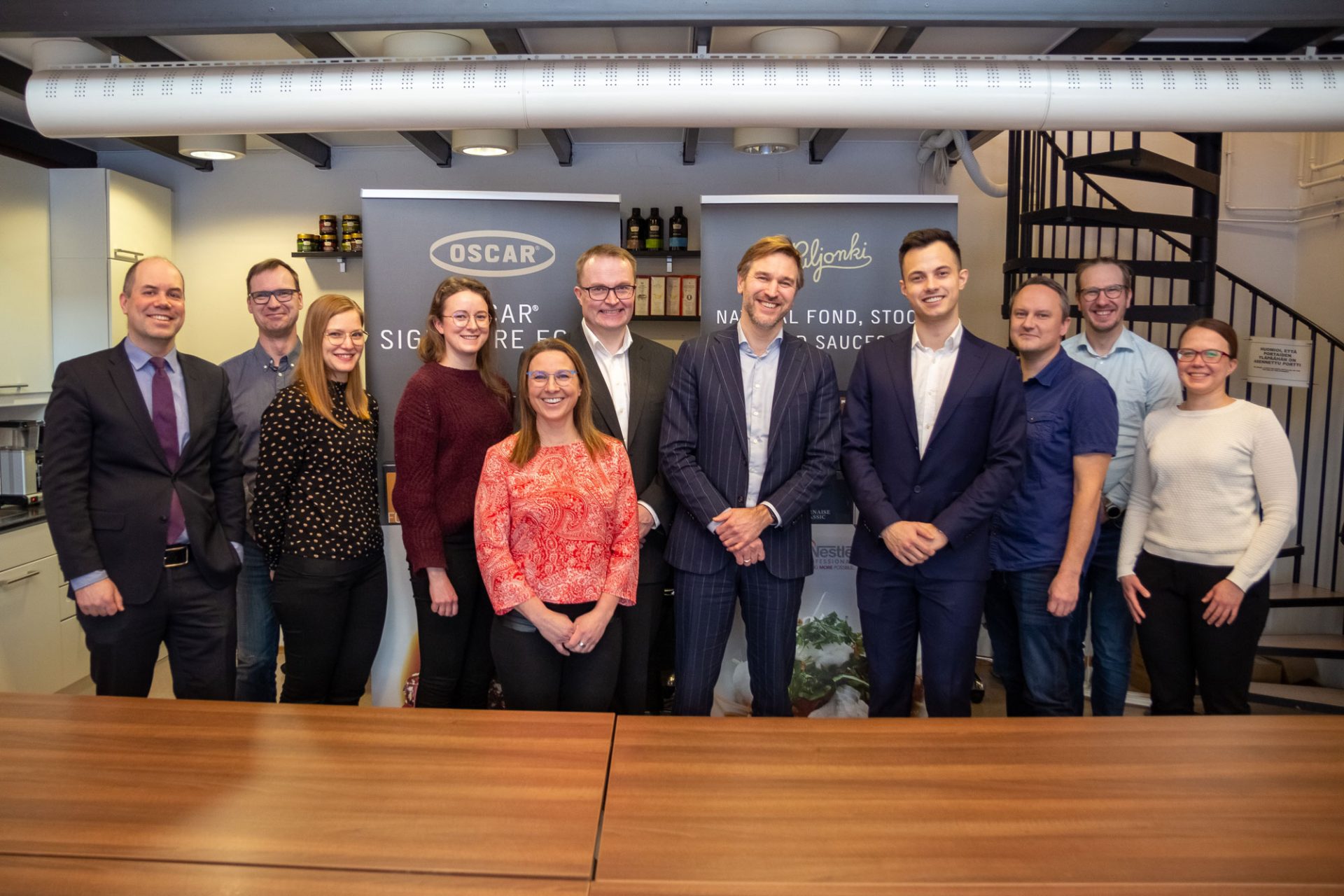 Puljonki and Nevel teams start cooperation on a biogas based circular economy solution that aims at reduction of CO2 emissions. Download high resolution photo.
Nevel in brief
Nevel is a utility infrastructure company offering advanced industrial and municipal infrastructure solutions that are fit-for-purpose and future-proof. Nevel operates more than 130 energy production sites and manages over 40 district heating networks. The company has an annual turnover of EUR 100 M, and employs 150 experts in Finland, Sweden, and Estonia. Committed to a climate positive future, we drive societal impact by co-creating local circular economies and driving transformation to CO2 emission free energy production.
Puljonki in brief
Puljonki is the largest European operator in its field, and part of Nestlé. Puljonki makes sauces for the food service sector, and its wide range of 150 products includes bouillons, gravies, sauces and sauce bases needed in the professional kitchens. We always develop and adapt our products to meet our customers' needs. We employ around 50 people in the Finnish municipality of Juuka, North Karelia.
Find out more at Puljonki® | Nestlé Professional (nestleprofessionalfood.fi)